23rd January 2017
Written at life drawing class
A4 Drawing No.18.2 Jan 2017  
writing about drawing
You are hard
and sometimes cruel
but with you I am
the best that I can be.
Not the shiniest, most famous, most admired
but the best of me.
Back of A4 Drawing No.15 Jan.2 2017
Its all I want to do
now.
Its all I should be
doing.
A4 Drawing No.16 Jan.2 2017
I have been life drawing since I was about 15 and over all those years I have learnt to be kind to myself, to drawing. I am strict, yes, but not so full of self loathing, not so cruel, not so disappointed am I, when I draw. I let myself play, make mistakes, maybe it's because I am learning.
Life drawing is a shared experience, a small community all responding to the same object but individual stimuli.
January, after holidays, I am not interested in the colour of an apple.
I just want to draw.
I suffer from terrible loneliness, partly carrying my business alone but isolation hounds me. I have plenty of friends to visit but it's work I want. Drawing in a community; that energy, makes me happy, makes me kinder to myself, less reproachful. It's then that I can meet up for a beer and enjoy it. Only then.
A4 Drawing No.16.2 Jan.2 2017
Be patient.
Don't be so angry
with yourself and
so full of self
hatred.
Be kinder.
Be more sympathetic.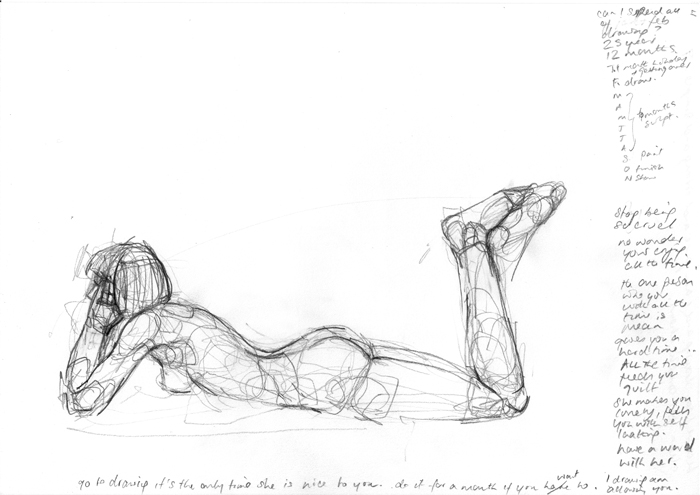 A4 Drawing No.17. Jan.2 2017
Stop being
so cruel.
No wonder
your crying
all the time.
The one person
who you are
with all the
time is
mean.
Gives you a
hard time.
Feeds your
guilt.
She makes you
lonely and fills
you with self
loathing.
Please.
Have a word
with her.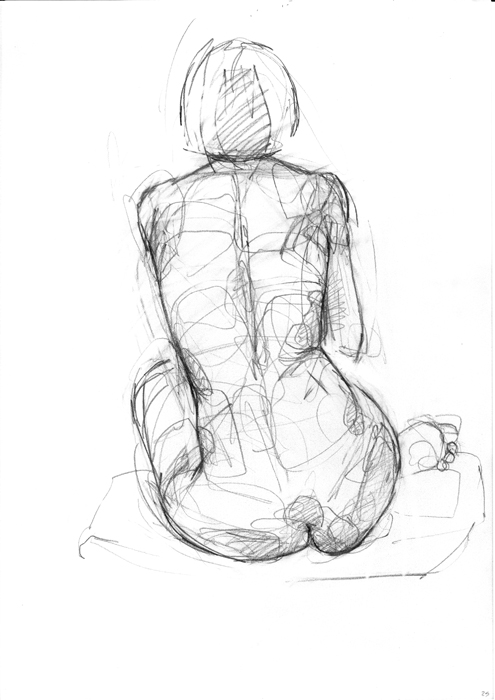 A4 Drawing No.20 Jan.2 2017
I often say that drawing is mediative, but its not quite, there is way too much dialogue going on.
'Fuck off'
I can hear my self reproach as my mind drifts to complimenting, confident, or even arrogant thoughts. (sometimes you can think, wow, this is going to be a good drawing, or "i am getting good at this, look at me go, and then the drawing shatters around you into fake pride )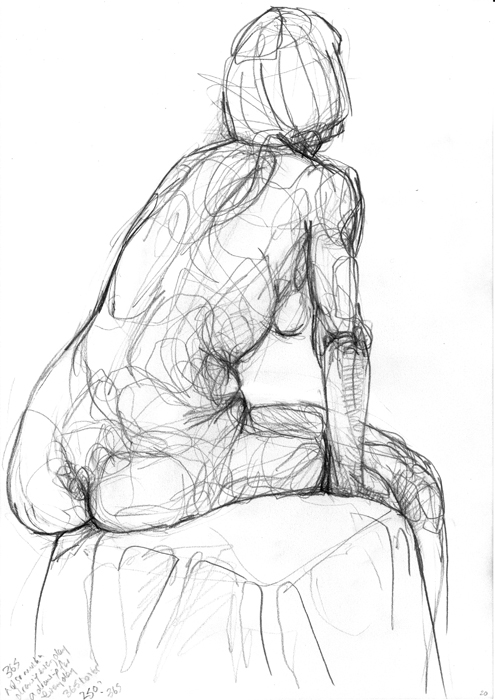 A4 Drawing No.22 to 34  Jan.2 2017
And as the day slips on the voices, thank god, start to quieten. Wether it's the work or the talk amongst the group, or the gathering of similar minds, the voices quieten and I just draw.
No writing, written after on that day