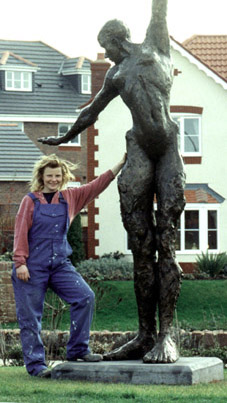 Taywood Homes
On designing the piece I was very aware that as a public sculpture it very much concerns the community living and working in the area. The figure as a means of expression within sculpture is very powerful, being easily accessible to everyone whether they have any knowledge of art or not. We all share the emotions of the figurative sculpture, anyone can understand and get something from the piece and because of this, it seems, they do not feel alienated by it.

The attitude for this sculpture was very important, people constantly pass by it on their busy daily schedule, for example , they will glance at it as they pull onto Badminton Road to go to work and again as they come home in the evening. Children going to school may follow the same routine. I therefore chose a happy and exhilarated pose looking out onto the road to create a feeling of success and excitement about life but also containing a quieter, content and peaceful side which looks back towards the houses. Different feelings will be evoked in different people at different times; I hoped there would be something in it for everyone.

The piece has been in place for a number of years now and has become a well known feature, I have heard directly from people living there and they describe it as their sculpture, it seems the community feels it belongs to them.