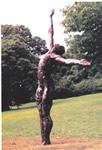 Ashton Court
A Sculpture commissioned by Artery for the Temporary Art Trail, Ashton Court Estate.

The Dancer first stood 3.5 meters tall at the top of a large sweeping hill in Ashton Court Estate, Bristol, the best position I had seen any of my sculptures in so far. I was very pleased to be invited to take part in the Art Trail and especially glad of the reaction to the work I produced. Never before had my sculpture been showed in such a public place and so well received.

Many people thought it's bronze finish resembled bark, thought it was 'made from a tree'. People have hugged, kissed, held the hand of and felt the sculpture; reactions have been far more powerful than I or the people themselves expected. The public became involved with the piece, some coming back to visit it time and time again, others thinking about it before they go to sleep at night, others taking the postcard and putting it on their bedroom mirror to see every morning. It was inspiring for people and seemed to make some very elated.

This was to be the first time I had worked on anything larger than lifesize. The scale of 'The Dancer', I found very exciting. While I was working, gestures came from the movement of my whole body rather than my hand or arm. I was becoming much more involved with the piece and the process, I think it was quite a turning point in my work. On placing the piece I realised it could not have been much smaller, the magnitude of the landscape does tend to shrink anything added to it.