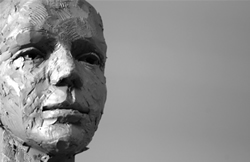 Allies
This piece was commissioned for a special wedding anniversary after seeing the smaller Allies sculpture, it is an edition of six, three in bronze and three in bronze resin.

The figures represent companionship, friendship and support.

The timescale of their body's represent an idea of time somewhere between childhood and adult. Not the turbulent time of teenage years but the knowledge of the future mixed with the innocents of the past.
An age-old problem your young you want to be grown up and adult, experience all things that should only come to you later. When you're older you want the innocence of youth, carefree and lacking in responsibility.
Is it just the human condition that we always want what we can't have or is this worth thinking about, can we somehow reach this time and maintain it within us?
Are the figures standing waiting to be judged or are they at the beginning.
The swimming costumes, to me, (while diminishing their sexuality and enabling them to remain 'naked' i.e. vulnerable to life experience) symbolise the feeling of the unknown adventure, a bit like the first swimming lesson. In this piece they approach it together as equals. Individually they are strong but even without touch they know they have an ally.

270cms hgh x 44d x 80w