In November 2017, I celebrated 25 years of being an artist in Bristol with an 11-day extravaganza of sculpture, drawing, painting, words, food and music, centred around a large show in the Paintworks Event Space.
This main exhibition event showcased work, from the life-size to the minuscule, referencing the last 25 years and with the drawings, writing and paintings that are integral to it.
When I had the idea of a 25 year show I knew it had to be a celebration of Bristol, a realisation of the connections that has made this such an inspiring and amazing city to live and work in.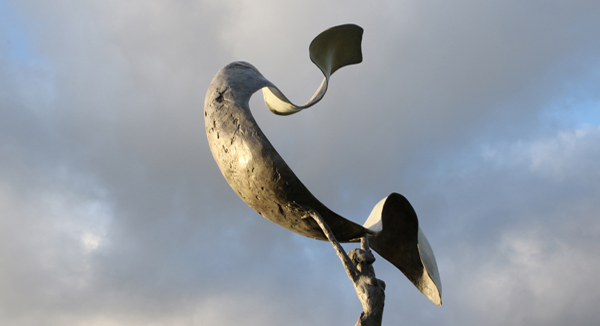 My Exhibition Statement
In 1992, I had two commissions from my degree show and moved directly from Winchester to the Bristol Sculpture Shed. I have had temporary studios in London and Barcelona but Bristol has always been home. It is here that I have grown up as a sculptor.
25 years ago, I started my career selling work on a table at the Watershed. With Bristol as my backbone I have now exhibited all over the world. Four life-size bronzes were recently installed in Barbados; my work is collected in Hong Kong, Singapore, United States and Canada. Closer to home I show in Stockholm, Frankfurt, London and have had solo shows in The Netherlands, France, Marbella, Athens and Zurich. As well as many public art works through the UK, I have work permanently on show at Glyndebourne and at the Dorchester's country house hotel in Ascot.
Drawing and painting are the arteries that will run through the exhibition but the main body of work will be sculpture. Although there will be references to the last 25 years and how the work has developed, focus will be on the now, with the majority of the 100 works being shown having been completed in the last 5 years.
People will see the different processes; work made in clay, plaster or wax and cast into bronze or iron resin, rolled and fabricated steel. There will be different finishes from traditional patination to gold leaf to bright painted surfaces.
I have always been described as straightforward, honest and humble in my approach to making work but people seem to be very moved and inspired at a solo exhibition. I write small pieces alongside the work and people quietly go around taking it all in. They laugh and they cry. Maybe they understand me, but mostly I think they see themselves.
Drawing is fundamental to my work. I make drawings, I learn, so that when I sculpt I can be free.
'It's all about trying to see, drawing enables that, but it's with clay that I can try to communicate.'
In the past few years my work seems to be exponentially gathering energy and I am pushing myself more than ever before, visually, technically and conceptually. The time feels right to celebrate that 25 year exploration and although it seems terrifying to raise a frame up to the work as it is now.
As the poet John Terry said about my work back in 2006 "They are first of all, real people. They yearn but they also give. They rise, they don't fall. They strive; are eternal optimists. They look perhaps slightly disorientated, but there is no pleasure in falling, or in giving up, so they keep on. 'For us there is only the trying' "