Every morning I take Molly to the beach below the apartment and we skirt around its edges on concrete and play ball amongst the palm trees. Dogs are not aloud on the beach but some of the locals let their dogs on when its not busy so everyday we get braver and she goes on a little more.
After a few beers in the evening we are more ballsy and run to the sea and molly goes mental. Lately as we promenade along the front she makes a break for it and decides to dive out, labrador like, to waters edge on her own, then on getting there realizing we have not followed she rushed back to us, pleased with herself all the same. This morning the sun was doing it's morning stuff, being epic and all that, I normally just watch and take photos and Molly sniffs about.
Today we didn't.
We walked romantically along the shore as I have longed to do, I threw sticks and Molly swam for them. With us, there was one fisherman on the rocks, one vested old man prodding about in the sand and 3 ladies swimming, and the sun was rising, and they looked beautiful, their heads dark in full shadow breaking the bright reflected surface. Everyday morning I watch the, mostly older generation, submerging themselves into the water, chattering, gliding about in its silky surface and I long to be with them, and I go to work.
Today I didn't.
Today I dipped myself into that silky flat warm water as the sun rose slowly over Barcelona.  The silver water reflected the blue sky and the red orange Barceloneta buildings shifted and bobbed about on surface tension. Caroline said to me once when I was having an everyday anxiety about some such thing, an emotional flailing, a hatred of one of my traits or inadequacies no doubt… you have to learn to love yourself.
Today I did.
It sounds corny, but today as I watched the sun break through the blue surface above and divide underwater into shafts, as I watched it light shoals of silver fish turning them to flecks of silver in the green light, as I pounded powerful arms up the bay making tiny bubbles: I glided, I remembered for a brief moment who I was.
I am swimmer and sometimes I can be brave and I am also kind of ok. And I realized how incredibly lucky I was to be here. And underwater I smiled at the fish.
Yes, I have to go home to use my foundry and sort out my galleries but Barceloneta will be here and I can come back and I can also try new places. The only thing that will always come with me is me. And if I like me, then we will get along fine, wherever we are.  And I held my breath and dived under the water and swam across horizontal ripples in the sand, out to sea, so I could watch the rising sun come through the water.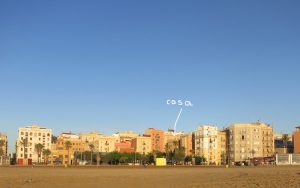 view from bedroom window, tricky to stay in bed with that going on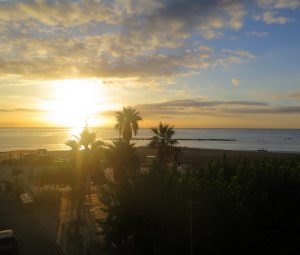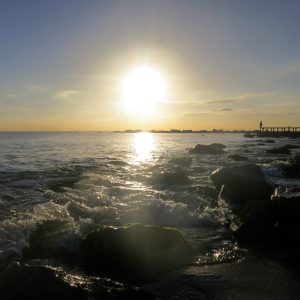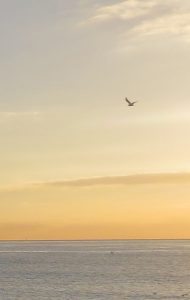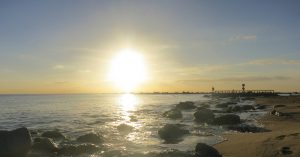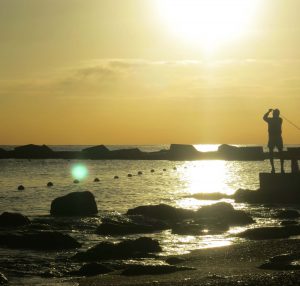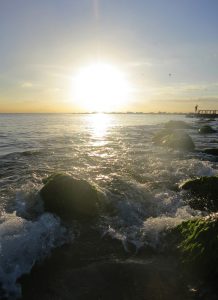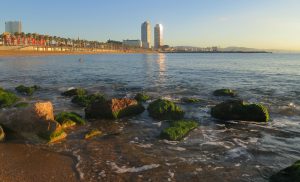 big round catalans swimming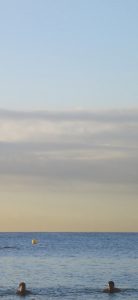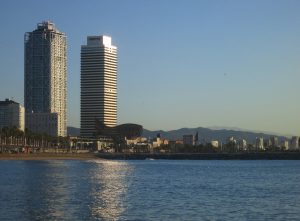 my fav view, city, modern architecture, sculpture, sea, beach, mountains…what more could you ask of a city.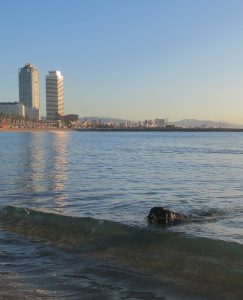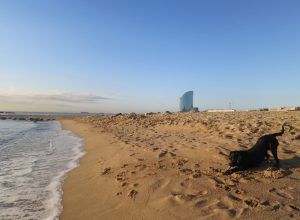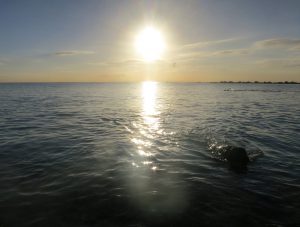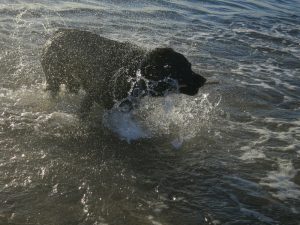 snot face happy puppy