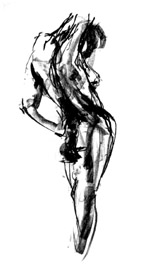 Norfolk
This sculpture was commissioned by Harry Collins from a charcoal drawing of mine.

I used the drawing as a starting point then worked with the clay to make a more sculpturally interesting form. I find the most successful area to be the space created between the raised foot at the back and the hand coming over the shoulder.

Cast in ciment fondue.