Supposed to be doing my vat return, so ran up the hill with Molly and did yoga looking over the whole of Barcelona! er…yes ran up the hill and did yoga! I didn't know vat returns could be so inspirational!
Well…it was more that I….stumbled, jogged, panted, walked, sweated, stood gasping for breath, walked, ran a bit, sweated and then did about three moves I could remember of yoga including the speary one, warrior I think it is but I felt pretty awesome up there all the same!
These are some pictures from when we went there late evening one time, you can see Barcelona 360 and watch the sun go down over the hills behind, but in the morning you are on your own and the morning light reflects bright on the sea below. There was a settlement there and there is still a small village on the back road up to there that has that empty quite feeling that villages in the country have.
You can see what its like on this vid, they do a spin round about half way through. Its all been cleaned up since then because of the rich history of the remains up there including leftovers of the former Iberian village, the bunkers and anti aircraft batteries from the civil war 1936 – 1939 and the shanty village in 1940 -1978
http://www.youtube.com/watch?v=-obxdNHBsTk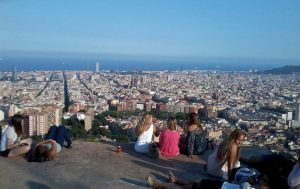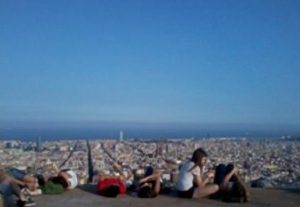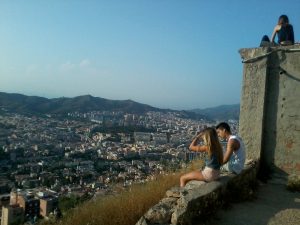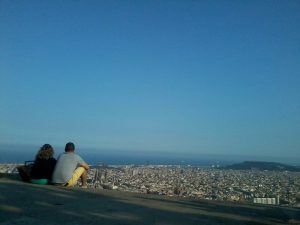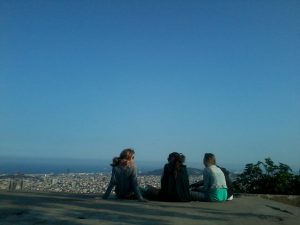 Parc del Guinardó is the green bit below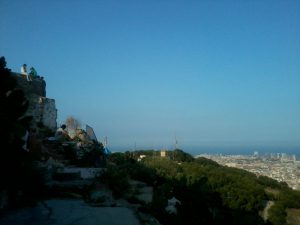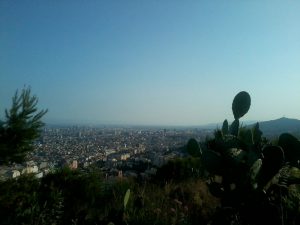 lots off different levels from the old shanty town barraca "El Carmelo" the platforms where the houses stood and the old tiles of the kitchen etc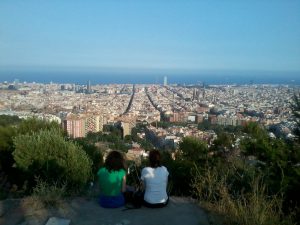 history here
http://skateandurbanstreetculture.wordpress.com/2011/03/23/turo-de-la-roviro/
how to get there here
http://www.bcn.cat/museuhistoriaciutat/es/muhba_turo_rovira.html
http://www.spottedbylocals.com/barcelona/turo-de-la-rovira/